FAUX CHIPBOARD
By: DT Liza Yet
Do you have that one chipboard that you love and need to duplicate?
Well…now you can!
(1) As I have used the chipboard, I wanted to duplicate the bird.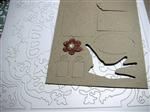 (2) First, trace out the shape of the chipboard and draw another four more.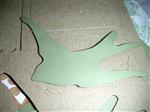 (5) Pile and glue them all together, creating a "chipboard" like thickness.
(6) You can then ink, paste PP, paint or stickle them and embellish your page.